How To Be A Good Boss…Fight
Now that I'm done being stupid and closing the window on a nearly finished post, let's talk a little bit less GW2 specific today. I want to look at boss fights in MMORPGs and what makes a good fight. What makes a boss fight good? What makes it boring? What makes it memorable? What makes it frustrating? We'll look at why Guild Wars failed, why WoW succeeded, and why Guild Wars 2 will (or certainly should) succeed when it comes to PvE boss content.
The Importance Of Boss Fights
Take a quick minute and think about PvE content in MMORPGs. Hell, look at most games in general. You've got an overworld with creatures to fight, towns that are relatively creature free, and then dungeons that are filled with creatures and bosses. You could take out the overworld and still have a game built on a series of dungeons. You could take out the dungeons and put bosses in the overworld. But, a game with only an overworld and dungeons would feel too monotonous. Bosses are really core to the PvE experience. If there were no bosses, everything would feel like just running around slaughtering everything, which would yield a relatively constant level of challenge throughout the game. Either everything would be easy (see: entirety of Diablo II) and you'd ROFLstomp your way through, or everything would be incredibly difficult and you'd spend most of your time hugging the floor. Bosses let you put in some of that other, evenly-challenging content, but then kick up the difficulty here and there at certain points. They're a good way of ending out sections of story, sections of dungeons, and naturally the entire game.
What Is A Boss In GW?
Only the one on the left is a boss. Can't see what's special? Neither can I.
To look at why GW failed in providing good PvE content, let's look at what it means to be a boss in the game. Guild Wars uses the term "boss" to refer to any creature with a unique name and an elevated level, more or less. To get a boss in GW, take a regular type of creature, give it a name, add a couple levels, and make it glow. These "bosses" have the same skill sets as a regular creature, which roughly translates to the same kind of skill set a player could have, give or take maybe one or two monster-only skills. For end-of-campaign bosses, there's usually about three special skills made specifically for that boss. End-of-dungeon bosses might have one special skill or maybe something where you have to drop an item on them. Actually, only two bosses at the end of elite missions have a full set of unique skills. Truth be told, the challenge to bosses in GW is, most often, just clearing everything around them so that in the end you can pull only the boss. Otherwise, the challenge really comes from the overwhelming amount of damage hitting the party.
What's Wrong With This?
Too bad they didn't see this sign when they were making the content.
If this doesn't sound particularly fun or interesting to people that haven't played GW, that's because it isn't particularly fun or interesting. This, mostly, isn't because Guild Wars features poor boss design. The core of the problem goes to the engine and other mechanics in the game. One of the things I love about GW the most is one of the things that limits the design of boss fights. You have eight players that all have exactly eight skills at any time. There's only so many things those eight players can bring, so you can't put in a lot of mechanics that require specific types of skills without limiting how players can play the game. Not only would you limit playstyle, but you'd force yourself to have to make all content leading up to the boss mimic the boss or players wouldn't have enough leftover skills space to handle the trash. One of the biggest things about the game engine and mechanics is the lack of threat. Mobs and bosses have AI that chooses their targets — usually based on the armor, health, and location of nearby players and allies. You don't have the ability to actually tank and force everything on to you while the rest of the players take damage. This removes the possibility of a lot of tank-related mechanics or the ability to put more mechanics on everyone else that isn't tanking.
The last major problem is the lack of movement precision in the game. There's no jumping in GW, which literally takes away an entire dimension of mechanics. Actual movement using keys is incredibly imprecise, where without a perfect latency, you'll often see your character go a few extra steps than you really do, or get stuck on corners you can't actually see. Worse yet, all of the actions your character does have a ridiculous post-action animation. If your skill costs 1/4 second to cast, you've probably got a good 1/2 second animation after you actually cast the skill before you can do anything else. It wouldn't be so bad if the game didn't actually lock your character in place and prevent new action during the post-action animations. As a last note on imprecision, Guild Wars doesn't show the size of areas of effect, with few exceptions. There are little training places around the game with concentric rings to show the three prominent area of effect sizes in the game, but you don't see them before you cast a spell or even during a spell's effect. This makes it difficult to put lots of AoE effects in a fight when the only way to know that you're out of the AoE is when it is no longer hitting you. Because of the imprecision in GW, you can't place mechanics in fight that require quick, accurate responses to engage the players, because speed and accuracy are out the window.
What's A Boss In WoW?
Now that's more like it; she doesn't even fit on the screen that close.
Now that we've shown why bosses were done poorly in GW, let's look at WoW. In WoW, bosses are specific enemies you fight in dungeons or raids. They're almost always separated from the rest of the enemies around them, often in their own room, except for whatever enemies are intentionally part of the fight. Bosses have a LOT of health compared to all of the trash in the area and do massive amounts of damage. Bosses are also usually very engaging to the player — not only do you have to do your job in the trinity, but you've got to worry about all the other mechanics being thrown at you at the same time. There are two major types of these mechanics. There are the sort of "standard" mechanics that many fights have, and then there are the more "unique" mechanics that only one or maybe two bosses tend to have. Some of the common mechanics are areas to move out of, key skills to interrupt, major raid-wide nukes, multi-target attacks, switching bosses, multi-phase fights, things to run away from, things to chase after, things to slow down while someone runs from, things that need to be killed before bad things happen, stacking buffs/debuffs that make the fight progressively harder, debuffs that require people to run away from everyone else, hard timers that end the fight after a certain amount of time, etc. The list goes on. Let's talk about some of these.
Familiar Mechanics
We call these "void zones" or just simply "fire" and you shouldn't stand in them.
There's a lot to be gained from having a set of "standard" boss fight mechanics. They're things that players are expected to be able to handle due to their presence, which provides a certain level of "if you can do this, this, and this, you can probably get by". It also provides a constant distraction from whatever you're doing without demanding too much attention because you've seen it before and it's sort of natural to adjust to them. They also give players a better chance the first time seeing a fight when they're looking at familiar mechanics rather than entirely new stuff. You can simply adjust to the things that you already know and talk about the specific variations of them later. Secondly, by creating a large set of these "standard" mechanics, developers can pick and choose a lot of different smaller sets to make each fight still different at the core while not totally new, giving them less to need to come up with each time without being too repetitious.
Unfamiliar Mechanics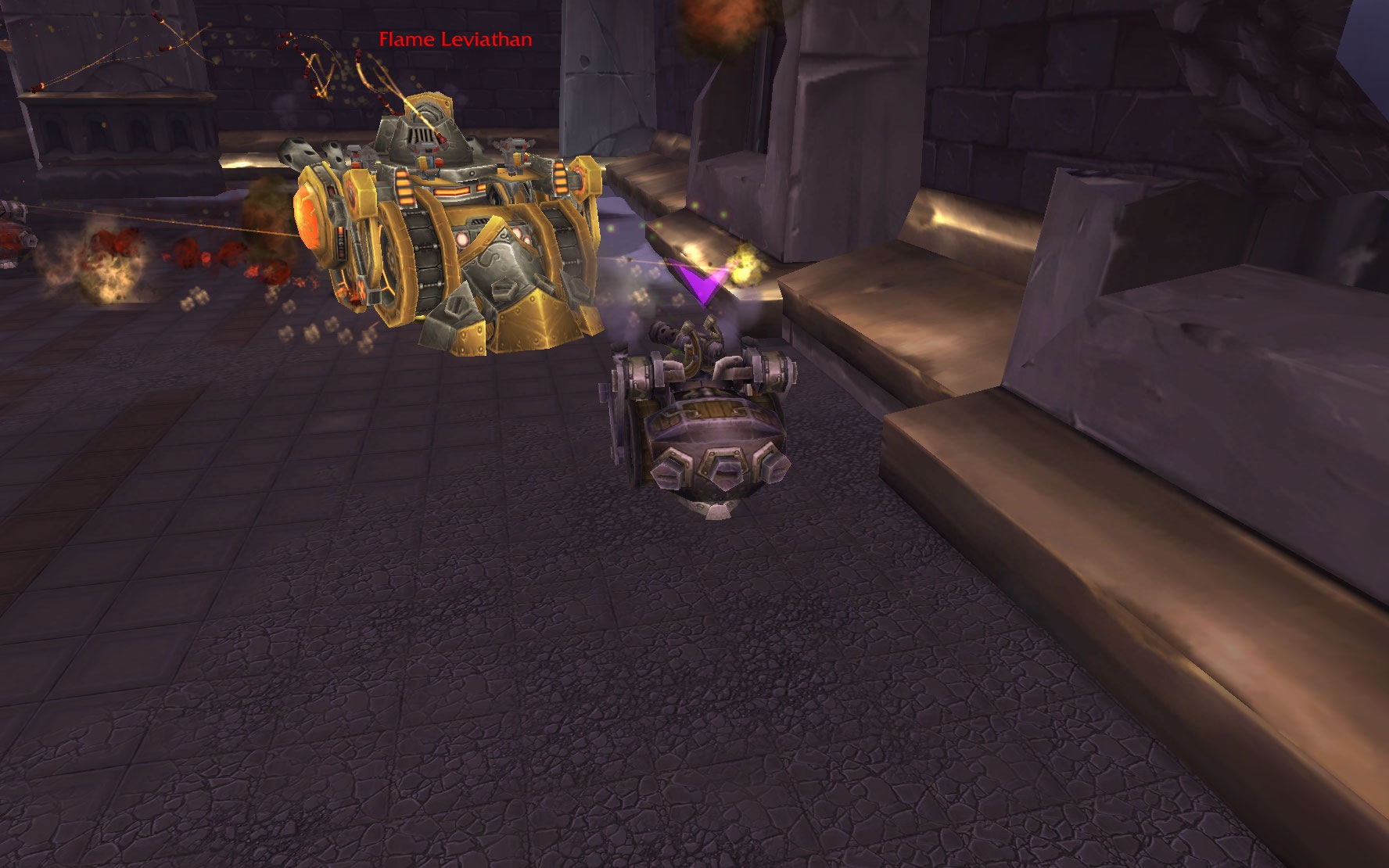 This boss is actually fought almost exclusively using vehicles.
While the familiar mechanics give boss fights a certain starting point for players, it's the unique mechanics to each fight that set them apart. It's also the unique mechanics that make or break the fight. The standard mechanics are the ones that you sort of expect to see in a fight that you already know work. They're easy for developers to tune, because they've been using them for so long that they already know how to size the numbers for the particular effect they want. If poorly balanced, the unique mechanics to a fight can utterly ruin it for players and forever scar it into their memories as being a bad idea. One example in recent history for WoW is a boss named Lord Rhyolith. When you started the fight, he would forever walk until he got to the last portion of his health. You had to attack his legs to make him turn so that he would run over top of volcanoes and stop nuking the raid as well as to keep him from going into the lava and wiping your group. The problem was making this mechanic well balanced between 10- and 25-player modes. Beyond this, it was also just a pain to coordinate for younger, less experienced guilds and players. The rest of the fight basically dictated that you had almost no room for error in missing the volcanoes yet the turning was either too tight or too loose in many situations that made it difficult to avoid missing. It was just frustrating all around. While you don't want to design mechanics that are too challenging or unmanageable, you want to make mechanics that have to be taken seriously. The fight shown in the screen above was actually done on normal mode by as few as two people (for the 10-man version) during its tier. Granted, those were two people that had the system as down as possible, but it still means the mechanics needed to be harder on normal mode (as a side note, there were four levels of hard mode that offered increased amounts of loot).
Why Will Guild Wars 2 Be Successful?
Yeah, it's going to be like that. A lot like that.
First off, GW2 isn't going to have the issues GW had. They've learned from the mistakes they made in their first game in a lot of ways. They've also had seven years worth of feed back to make decisions with. We've already seen the level of precision in movement that will be present in the game with the ability to jump and things actually taking up the space and shape that they physically appear to. We've also already seen that abilities in the game have clearly defined and visible sizes to their area of effect. We also know that bosses, just in the one dungeon they've shown, have sets of abilities that are their own rather than simply mixing up player skills. Really, the only thing we don't know is how threat works. But, in the no-trinity model, that's not really a big deal at all. The key thing to remember here is that we've only seen the first (read: easiest) dungeon of the game thusfar.
If you look at the list of standard mechanics in WoW that I wrote above, half of those are very easy to see in the GW2 system. I don't see any fights getting a hard timer to them, but for the most part most of those things are just special buffs, special debuffs, AoE's, or spawning adds. We've actually already seen these types of mechanics in the game from the last two betas events. I'm not saying that WoW is necessarily the correct way to do it and that everything on that list should be done the same way by any means. I'm, again, just using WoW as an example because it's the most popular MMORPG in the last decade that is considered the genre standard. Now, one of the things ArenaNet will be able to get a good feel for is balance. It applies as much to PvE as PvP and from the enemy side as the player side that the boon/condition system makes the game very easy to control the balance of. By having a standard type of debuff or buff for everything in the game (for the most part, there are some other special buffs/debuffs), you have a very consistent system. It's easy for them to see how powerful a spell is or isn't by looking at the the duration and number of stacks it causes and comparing that to the rest of the system they're using. Even when they use special buffs and debuffs, this standard across the system gives them a good point to start at.  Also, ArenaNet is full of very creative developers. When you look at the whole game as we've seen it and think about all of the people that collectively have given us each part, it's easy to see how the boss fights we're going to get are going to unique, challenging, and memorable experiences.
That wraps up another post. I'll get a second out later tonight. If you like this post or anything else I've been doing here, help make it even better! Give me topic suggestions via the "Got A Question/Request" button on the right, and I'll make sure to get to your topic. Also, check out the character blog project suggestion here if you haven't already. Reblog it and spread the word!
bonnifairy likes this
yoshigw2 posted this